December 10, 2012
They are convenient and tempting  — those mixes packaged in envelopes in the grocery store. Adding a pouch to some water and having gravy or a seasoning packet for chili is easy to pick up and makes you feel that you are saving time.
But what if you had these things in your own home and for a lot less money?
Have you ever thought about it? Have you ever made your own mixes? There are many recipes available, from Hearty Bean Soup Mix to Homemade Sweetened Condensed Milk to Spice Mixes. Make a flavored coffee creamer or your own hot roll mix. With a little organization, some tightly sealed containers and labeling equipment you can have a pantry full of fabulous mixes in no time and you don't have to run out to the store before making your favorite casserole. It's also wonderful to have recipes for seasoning and herbs blends that may be difficult to find in some parts of the world, like Beau Monde seasoning or Herbs de Provence. 
Many consumers are concerned about fat and sodium content in many recipes that call for condensed soups and seasoning mixes. Make your own mixes and you control the sodium and fat content in the foods you eat. On a low sodium diet? Just leave out or reduce the salt or salty products. Want to eat low fat? Substitute low fat ingredients for higher fat ones. As a bonus, you can customize each mix to your taste. And you'll save money too! You can add, subtract, or substitute for just about any herb or spice in these recipes.
All of these mixes should be stored tightly covered in a cool, dry place. I have found that large Tupperware containers or large glass jars with screw-on lids work best. Most mixes will stay fresher longer if stored in the refrigerator. Just like purchasing a commercial mix with directions on the package, you will need to have the directions (stored with the mixes) to use the mixes that you make.
Time Saving Convenience Mix Recipes
The ingredients in these recipes can be doubled or tripled.  These mixes are great to have during the busy holiday season, so that you can make a quick dinner on those nights when you have a "million" things to do.
Cream-of-Something Soup Mix
A commercial brand lists 13 ingredients including corn syrup, vegetable oil, and sugar. This version has half that number and no mystery ingredients. If your recipe calls for cream of mushroom – add sauteed mushrooms to the reconstituted mix or for cream of celery soup add celery, etc.
Makes 3 ½ cups
Ingredients:
2 cups dry milk powder
1 1/4 cups cornstarch
1/4 cup chicken bouillon granules
2 tablespoons dried onion flakes
1/2 teaspoon pepper
1 teaspoon dried basil
Directions:
Combine all ingredients and store in a covered container.
For soup: combine ½ cup of the mix with 1 cup of water. Stir until smooth, then bring to a boil and cook until thickened.
For use as a condensed soup: combine 1 cup of the mix with one cup of water. Stir until smooth and bring to a boil and cook until thickened.
Note: There is no salt added; the bouillon has plenty.
Homemade Onion Soup Mix
Ingredients
3/4 cup instant minced onion
4 teaspoons onion powder
1/3 cup beef-flavored bouillon powder
1/4 teaspoon celery seed, crushed
1/4 teaspoon sugar
Mix all the ingredients and store in an airtight container.
To use: add two tablespoons mix to one cup boiling water. Cover and simmer for fifteen minutes.
Homemade Rice Seasoning Mix
Ingredients
3/4 cup chicken bouillon granules
1/2 cup dried parsley
1 tablespoon dried basil
1 tablespoon dried dill weed
2 tablespoons dried onion flakes
1 teaspoon seasoned salt, recipe below
2 teaspoons garlic powder
1 teaspoon lemon pepper seasoning
1 cup almonds, coarsely chopped (optional)
Mix together and store in an airtight container.
To prepare white rice:  combine 1 cup white rice, 2 cups water, and 3 tablespoons of the seasoning. Bring water to a boil and add rice & seasoning. Reduce to simmer and cook for 18 minutes.
To prepare brown/ wild rice: combine ½ cup long grain brown rice, ½ cup wild rice, 2 cups water and 3 tablespoons seasoning mix. Bring water to a boil and add rice & seasoning. Reduce to simmer and cook for 50 minutes.
Seasoned Salt
Ingredients:
6 tablespoons salt
1/2 teaspoon dried thyme leaves
1/2 teaspoon marjoram
1/2 teaspoon garlic salt or garlic powder
2 1/4 teaspoons paprika
1/4 teaspoon curry powder
1 teaspoon dry mustard
1/4 teaspoon onion powder
1/8 teaspoon dill weed
1/2 teaspoon celery salt
Put all ingredients into a mini food processor or small blender container and blend on low. Store in an airtight container.
All-Purpose Biscuit Mix
Makes 12 cups
Ingredients:
9 cups all-purpose flour
2 cups dry milk powder
1 tablespoon salt
1/4 cup baking powder
3/4 cup trans fat free solid shortening, such as Spectrum
Combine the dry ingredients and cut in the shortening until the mixture resembles coarse cornmeal. Store in a airtight covered container. It is not necessary to refrigerate.
To make 10 biscuits: combine 3 cups of the mix with ¾ cup water. Stir just until the dough comes together.
Pat out on a lightly floured surface and cut into rounds or squares. For soft biscuits, place in a round cake pan with the biscuits touching. For crisp biscuits, place the biscuits an inch apart on a cookie sheet.
Bake in a preheated oven at 450 degrees F for about 12 minutes.
Muffin Mix
Ingredients:
5 cups flour
1 cup whole wheat flour
1-1/2 cups sugar
1 cup instant nonfat dry milk powder
1/4 cup baking powder
2 teaspoons salt
1 tablespoon cinnamon
1/2 teaspoon ground cloves
Mix in large bowl and store in airtight container.
To bake muffins: place 2 cups mix in a large bowl. Add 2/3 cup water, 1 slightly beaten egg and 1/4 cup canola oil and mix only until dry ingredients are moistened. Fill 12 paper lined muffin cups 1/2 full. Bake at 400 degrees F for 10-15 minutes until muffins are puffed and firm.
Taco Seasoning Mix
Ingredients:
1/4 cup instant minced onion
2 tablespoons chili powder
2 teaspoons paprika
2 teaspoons crushed dried red pepper flakes
1-1/2 teaspoons dried oregano
1/2 teaspoons dried marjoram
1 tablespoon salt
1/4 teaspoon black pepper
2 tablespoons cornstarch
1 tablespoon instant minced garlic
1 teaspoon ground cumin
Combine all ingredients in a small bowl and blend thoroughly with wire whisk. Spoon mixture into a tightly closed container and label as "Taco Seasoning Mix". Store in a cool, dry place. Use within 6 months. Makes 6 packages (about 2 tablespoons each) of mix. 2 tablespoons equals 1.25-oz. pkg. purchased taco seasoning mix.
To make Taco Filling:
Brown 1 lb. lean ground beef or turkey in large skillet over medium heat; drain grease. Add 1/2 cup water and 2 tablespoons. Taco Seasoning Mix. Reduce heat, cover pan, and simmer 10 minutes, stirring occasionally. Makes enough filling for 8 to 10 tacos.
Brown Gravy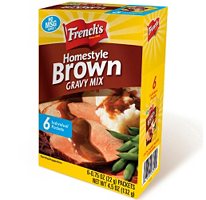 You can't taste the coffee but it gives the sauce its dark brown color. Great money saver for frugal cooks. Low sodium bouillon can be substituted.
Yield: 11 batches gravy
Ingredients:
1  2/3 cups cornstarch
6 tablespoons beef bouillon cubes
4 teaspoons instant coffee crystals
2 teaspoons onion powder
1 teaspoon garlic powder
1/2 teaspoon black pepper
1/2 teaspoon paprika
Combine all ingredients and store in an airtight container.
To make gravy: measure 3 tablespoons mix into a saucepan. Add 1 1/2 cups water. Bring to a boil and simmer 1 minute.
Individual Oatmeal Packets
Homemade oatmeal packets are handy and cheaper.
For each packet: fill a sandwich bag with 1/2 cup of oats, 2 teaspoons brown sugar, ¼ teaspoon cinnamon, a handful of dried fruit and another handful of nuts. Repeat for each bag. Store the bags in a large ziplock storage bag.
When needed, just add ½ cup hot boiling water and let sit until it's absorbed. Add milk, if desired.
Italian Salad Dressing Mix
Ingredients:
1 tablespoon Garlic Salt
1 tablespoon Onion Powder
1 tablespoon White Sugar
1 tablespoon Dried Oregano
2 tablespoons Salt
1 teaspoon Ground Pepper
1 teaspoon Dried Basil
1/4 teaspoon Dried Thyme
1/4 teaspoon Celery Salt
Mix to combine. Store in an airtight container.
To make the dressing:
1/4 cup Wine Vinegar
2/3 cup Olive Oil
2 tablespoons Water
2 tablespoons Dry Mix
Place all ingredients in  a jar with a lid and shake to combine.
Quick-Fix Healthy Mix contains over 150 dry and liquid mix recipes to stock your kitchen using easy-to-find basic ingredient, allowing you to choose how much and what types of sugar, fat and flour goes into your finished food.
http://www.amazon.com/Quick-Fix-Healthy-Mix-affordable/dp/1440203857
Related articles
August 3, 2012
Whole grains or foods made from them contain all the essential parts and nutrients of the entire seed. If the grain has been processed (e.g., cracked, crushed, rolled, extruded, and/or cooked), the food product should deliver approximately the same balance of nutrients that are found in the original grain seed.  
LIST OF WHOLE GRAINS
The following are examples of generally accepted whole grain foods and flours.
Amaranth

Corn

,

including whole cornmeal and popcorn

Oats

,

including oatmeal

Rice

,

both brown rice and colored rice

Sorghum

(also called milo)

Wheat

,

including varieties such as

spelt

,

emmer, farro

,

einkorn

,

Kamut®

,

durum

and forms such as

bulgur

,

cracked wheat

and

wheat berries
WHOLE WHEAT VS. WHOLE GRAIN
A question that gets asked regularly is, "What is the difference between whole wheat and whole grain?" The answer is in another question: "What is the difference between a carrot and a vegetable?"
We all know that carrots are vegetables but not all vegetables are carrots. It's similar with whole wheat and whole grain: Whole wheat is one kind of whole grain, so all whole wheat is whole grain, but not all whole grain is whole wheat.
If you're reading this in Canada, be aware that Canada has a different regulation for whole wheat flour. Canada allows wheat flour to be called "whole wheat" even when up to 5% of the original kernel is missing. So in Canada you'll hear two terms used:

Whole Wheat Flour in Canada — contains at least 95% of the original kernel
Whole Grain Whole Wheat Flour in Canada — contains 100% of the original kernel
"Whole grain whole wheat flour" would be redundant in the U.S.A. — whole wheat flour is always whole grain in the United States. 
Source of Essential Nutrients
The charts below list some of the nutrients that whole grains contribute to a healthy diet, and the proportion of the Daily Value for each.
The US Food and Drug Administration (FDA) considers a food to be a "good source" of a nutrient if a standard-size serving provides 10% of the recommended daily value; an "excellent source" provides 20% or more than the recommended daily value. We've noted when some nutrients in whole grains go even farther above these levels.  Note that a blank, white block does not mean that a particular grain contains none of that nutrient. Very often levels fall just short of reaching the "good source" level – but these foods can still make important contributions to your nutrient needs, in combination with other healthy foods. Whole Grains Council May 2004
A SERVING OF 100% WHOLE GRAIN FOODS
If you enjoy foods made entirely with whole grain, you can follow the suggestions in the 2010 Dietary Guidelines for Americans, where a serving of whole grain is defined as any of the following:

1/2 cup cooked brown rice or other cooked grain
1/2 cup cooked 100% whole-wheat pasta
1/2 cup cooked hot cereal, such as oatmeal
1 ounce uncooked whole grain pasta, brown rice or other grain
1 slice 100% whole grain bread
1 very small (1 oz.) 100% whole grain muffin
1 cup 100% whole grain ready-to-eat cereal
The Whole Grains Council has created an official packaging symbol called the Whole Grain Stamp that helps consumers find real whole grain products. The Stamp started to appear on store shelves in mid-2005 and is becoming more widespread every day.
The 100% Stamp assures you that a food contains a full serving or more of whole grain in each labeled serving and that ALL the grain is whole grain.
You can easily add whole grains to your meals, often using favorite recipes you've always enjoyed. Try some of the following:

MAKE EASY SUBSTITUTIONS
Substitute half the white flour with whole wheat flour in your regular recipes for cookies, muffins, quick breads and pancakes. Or be bold and add up to 20% of another whole grain flour such as sorghum.
Replace one third of the flour in a recipe with quick oats or old-fashioned oats.
Add half a cup of cooked bulgur, wild rice, or barley to bread stuffing.
Add half a cup of cooked wheat or rye berries, wild rice, brown rice, sorghum or barley to your favorite canned or homemade soup.
Use whole corn meal for corn cakes, corn breads and corn muffins.
Add three-quarters of a cup of uncooked oats for each pound of ground beef or turkey when you make meatballs, burgers or meatloaf.
Stir a handful of rolled oats in your yogurt, for quick crunch with no cooking necessary.
TRY NEW FOODS
Make risottos, pilafs and other rice-like dishes with whole grains such as barley, brown rice, bulgur, millet, quinoa or farro.
Enjoy whole grain salads like tabbouleh.
Buy whole grain pasta, or one of the blends that's part whole-grain, part white.
Try whole grain breads. Kids especially like whole grain pita bread.
Look for cereals made with grains like kamut, kasha (buckwheat) or spelt.
Whole-Grain Spaghetti with Peppers, Turkey Sausage, and Cheese
Makes: 4 servings
Ingredients:
12 ounces whole wheat or dark spelt* spaghetti (available at some supermarkets and natural food stores)
1 1/2 tablespoons olive oil
1 sweet Italian turkey sausage link, (about 4 to 5 oz.) casing removed
1/2 red onion, sliced
4 bell peppers (one each red, green, orange, and yellow), cored and sliced
1/2 crushed red pepper flakes
2 teaspoons balsamic or red wine vinegar, or to taste
1/2 cup fresh mozzarella cheese, finely diced
Black pepper
Directions
1. Bring a large pot of salted water to a boil and add the spaghetti. Cook per package instructions until al dente, then drain, reserving 1/2 cup of the cooking water.
2. Meanwhile, heat 1/2 tablespoon of the olive oil in a large skillet over medium-high heat. Add the sausage and saute, crumbling it with a spatula, until browned, about 5 minutes. Transfer to a paper towel lined plate.
3. Pour off any fat, then heat the remaining olive oil in the pan. Add the onion and cook, stirring, for 1 minute, then add the bell peppers and crushed red pepper. Cook over medium-high heat, stirring occasionally, until the peppers are soft and beginning to brown, 15 minutes. Stir in the vinegar.
4. Add the drained pasta and reserved cooking water to the pan and toss over medium heat for 2 minutes. Take the pan off the heat and toss the pasta with the cheese. Season with black pepper and serve.
Notes * Spelt is related to wheat, but it's higher in protein and vitamins. Its deep, nutty flavor gives pasta and breads a rich taste.
3-Grain Salad with White Beans, Tomatoes, and Parmesan
Makes: 4 servings
Ingredients:
1/2 cup hulled barley*
3/4 teaspoon salt
1/2 cup farro**
1/4 cup bulgur
2 tablespoons red wine vinegar
2 tablespoons minced red onion
1 smashed garlic clove
1 cup drained, rinsed cannellini beans
1 pint grape tomatoes, quartered
1 cup torn fresh basil leaves
3 tablespoons olive oil
Black pepper
1/4 cup shaved Parmesan
Directions:
1. Bring a large pot of water to a boil. Add the barley and 1/2 teaspoon of the salt; boil for 30 minutes. Add the farro; boil for an additional 20 to 25 minutes or until both grains are tender. Drain.
2. Meanwhile, bring 6 tablespoons of water to a boil in a small saucepan; add the bulgur. Bring the liquid back to a boil, then cover the pot, turn off the heat, and let sit for 25 minutes, until the water is absorbed.
3. In a large bowl, toss together the vinegar, onion, garlic, and remaining salt.
4. Add the grains to the vinegar mixture while still warm; toss well. Remove the garlic and stir in the beans, tomatoes, basil, and olive oil; season with black pepper to taste. Fold in the Parmesan and serve.
Notes:* With its chewy, pasta-like texture, barley is a great addition to soups and stews. It's loaded with satisfying protein and fiber.
** A hearty grain with plenty of protein, farro is used in soups and salads. It has a distinct nutty taste.
Spicy Salmon with Olives and Lemon Quinoa
Makes: 4 servings
Ingredients:
1/2 cup chopped scallions
Large pinch crushed red pepper flakes
Pinch salt
1 1/2 tablespoons olive oil
Nonstick cooking spray
1 pound skin-on salmon fillet
1 cup quinoa*, rinsed and drained
2 tablespoons toasted pine nuts
2 tablespoons pitted, chopped black olives
1 tablespoon fresh lemon juice
1/2 teaspoon finely grated lemon zest
Directions:
1. Preheat the oven to 450 degrees F. In a small bowl, combine the scallions and red pepper with the salt and 1/2 tablespoon of the olive oil.
2. Spray a small roasting pan with nonstick cooking spray and lay the salmon in it skin side down. Cover the fish with the scallion and red pepper mixture. Roast the salmon in the top third of the oven until it is opaque at the center of the thickest part, about 15-20 minutes.
3. Meanwhile, bring 2 cups of water to a boil in a saucepan. Add the quinoa; cover and cook over low heat until the water is absorbed, about 12 minutes. Transfer to a bowl and add the remaining olive oil and the pine nuts, olives, lemon juice, and lemon zest. Serve the salmon over the quinoa.
Notes * Technically a seed, quinoa is packed with protein and magnesium, a nutrient that lowers blood pressure. Light and fluffy, quinoa is perfect for salads and side dishes.
Tabbouleh with Feta and Shrimp
Makes: 4 servings
Ingredients:
1 cup bulgur*
1 packed cup parsley, chopped
1/4 cup fresh lemon juice
2 tablespoons olive oil
Pinch salt
¼ teaspoon dried oregano
¼ cup chopped fresh mint
8 ounces medium cleaned, shelled, tail-on shrimp, thawed if frozen
1 large pickling cucumber, peeled, seeded, and chopped
1 cup chopped tomato
1 cup chopped scallion
1/4 cup crumbled feta
Directions:
1. Bring 1 1/2 cups of water to a boil in a saucepan and add the bulgur. Bring the liquid back to a boil and then cover the pot, turn off the heat, and let sit for 25 minutes.
2. Meanwhile, in a bowl, whisk together 1 teaspoon of the parsley with the lemon juice, olive oil, salt, oregano, and mint.
3. Bring a small pot of water to a boil. Add the shrimp and simmer for 1 1/2 minutes. Drain, then rinse under cool water.
4. Place the bulgur in a serving bowl and toss with the shrimp, cucumber, tomato, scallion, feta, the remaining parsley, and the dressing. Serve at room temperature or chilled.
Note:* Bulgur cooks quickly and has a subtle, nutty flavor. Try it in soups, salads, and stuffings or as a substitute for rice.
Creamy Cannellini Bean and Amaranth Soup

Cannellini beans, fresh herbs, and amaranth, a wonderful whole grain thickener,  makes this hearty soup filling enough to be a main dish. For a thick and creamy soup, puree all of the soup rather than leaving half of the beans whole.
Ingredients:
2 tablespoons. extra virgin olive oil
2 large leeks, white parts only, sliced
3 garlic cloves, minced
1/2 cup amaranth
2 cups vegetable stock
1 bay leaf
1 cup tomato paste
2 cups canned cannellini beans, rinsed and drained, divided
1/2 cup chopped fresh basil
1 tablespoon chopped fresh oregano
1 teaspoon. sea salt
Freshly ground black pepper
Directions:
1. Heat the olive oil in a large, heavy saucepan over medium heat. Add the leeks and cook, stirring frequently, until golden and soft, about 5 minutes. Add the garlic and cook for 1 more minute, then add the amaranth grains, stock, bay leaf, and tomato paste and bring to a boil.
2. Reduce heat to a simmer. Cover and cook for 30 minutes.
3. Remove the bay leaf from the amaranth mixture, add 1 cup of the beans, and use a handheld immersion blender to puree in the pot until smooth. (Alternatively, puree the beans in a food processor, add the amaranth mixture – working in batches if necessary – and puree again until smooth, then return to the pot.)
4. Stir in the remaining beans, the herbs, and the salt. Warm gently just to heat through. If desired, thin the soup with additional stock. Season with additional salt and pepper to taste.
Related articles
July 13, 2012

A common question today is : "What should I eat to be healthy?"
Here are some "tried-and-true" meal planning tips:
Entree

. Here's where you can put the dietary guidelines to work for you. Plan on fish twice a week and at least one meatless meal. You're almost half-way done. For the remaining meals, plan one that's fast and easy to cook, one big family-type meal and one meal based on leftovers. Remember that a serving of meat is only about the size of a deck of cards. The rest of the plate will be filled with other good things.

Vegetables

. Begin to fill in vegetables according to the entree. Look for colorful ones and plan some variety throughout the week. Get out of the rut of the too familiar rotation of cooked peas, corn and green beans. How about sugar snap peas, broccoli or beets? Instead of the same old iceberg lettuce, how about spinach, tomato slices or shredded carrots?

Whole grains

. Think of all the options: brown rice, barley, whole-wheat pasta, whole-grain bread or rolls, couscous, barley, and kasha You can cook whole grains ahead and use leftovers the next day — especially in soups and salads.

Fruit.

It's not just for dessert anymore. Fruit can be a topping, a salad, a sauce, stuffed into chicken, and grilled or broiled on skewers. Think frozen bananas, grapes or berries for those hot nights.

Beverage

. Water is perfect. Other good choices include low-fat milk, unsweetened tea, 100 percent fruit or vegetable juice and a glass of wine or beer.
The following menus are formed around

stuffed chicken breasts

because chicken is a good dinner choice due to its versatility and popularity. The menus show you how to build a meal around this delicious entree.  I would, however, encourage you, if at all possible, to buy organic chicken. Chicken is one of the best places to spend your organic dollars, according to a 2006 "Consumer Reports" study. If you're resolved to eat a healthier diet, consider the benefits of organic chicken and add it to your shopping list.
Yesterday's health news is another reason to look for organic chicken in your supermarket. A growing number of medical researchers say more than 8 million women are at risk of difficult-to-treat bladder infections because superbugs – resistant to antibiotics and growing in chickens – are being transmitted to humans in the form of E. coli.  The Food and Drug Administration says 80 percent of all antibiotics sold in the United States are fed to livestock and even healthy chicken to protect them from disease in cramped quarters. It also helps the chickens grow bigger and faster. http://gma.yahoo.com/blogs/abc-blogs/superbug-dangers-chicken-linked-8-million-risk-women-122809803–abc-news-health.html.
While health news recommendations can be confusing from report to report, it is standard industry practice to regularly use antibiotics in livestock production.  It is important for consumers to be aware of what goes into the production of their foods, so they can make wise purchase decisions.
Look for this label to be certain you are purchasing organic chicken:
Menu 1
Two-Cheese Stuffed Chicken
4 servings

Ingredients:
1 tablespoon olive oil
1/2 cup chopped onion
1 cup diced plum tomatoes
1 teaspoon minced garlic
6 ounces baby spinach
1 cup part-skim, shredded Mozzarella cheese
1/4 cup shredded Parmesan cheese
4 boneless, skinless medium chicken breast halves (about 1.5 lbs)
2 teaspoons Italian seasoning 
1/2 cup low-sodium chicken broth
Directions:
1. Heat oil over medium heat in a nonstick skillet. Add onion and cook, stirring until onions are tender, about 5 minutes.
2. Stir in tomatoes and garlic. Add spinach, cover, and cook for about 3 minutes until spinach is soft. Remove from heat.
3. Let mixture cool slightly; stir in Mozzarella and Parmesan.
4. Heat oven to 375°F.
5. Beginning in the center of the thicker end of the breast, insert a small knife horizontally, stopping about 1 inch from the opposite end. Open incision to create a wide pocket and pack 1/4 of the filling mixture into each breast.
6. Season chicken with Italian seasoning blend and place in 13″x 9″x 2″ baking dish.
7. Pour broth over chicken. Cover loosely with foil and bake for 40 minutes.
8. Keep warm until served.
Brown Rice Pilaf With Hazelnuts  

                                                                                                                            
4 Servings

Ingredients:

1 1/2 tablespoons butter
3 large mushrooms, coarsely chopped
1 small onion, chopped
1/2 cup brown rice
3 tablespoons (2 ounces) coarsely chopped hazelnuts
1 1/4 cups chicken broth
1/2 teaspoon dried thyme
1/2 teaspoon grated lemon peel
Alternate: Replace the hazelnuts with walnuts, pine nuts, or pecans.
Directions:
Melt the butter in a saucepan over medium heat. Stir in the mushrooms and onion. Cook, stirring occasionally, until the mushroom liquid evaporates, 8 to 10 minutes. Stir in the rice and nuts and cook, stirring frequently, for 2 minutes. Stir in the broth, thyme, and lemon peel. Bring to a simmer. Cover, reduce the heat to low, and cook until the rice is tender, about 45 minutes. For best results, avoid stirring the rice while it cooks. Fluff the rice with a fork before serving.
Radicchio Salad
Serves: 6
Ingredients:
3/4 cup dried cherries or cranberries
3 tablespoons balsamic vinegar
2 pounds radicchio, cut in 1-inch shreds
3 tablespoons extra-virgin olive oil
1 teaspoon kosher salt
Directions:
Put the fruit in a small bowl and pour the vinegar over them. Let soak for 15 minutes. Pour the fruit and vinegar over the shredded radicchio in a large serving bowl. Drizzle with the olive oil and season with the salt. Toss well to coat the salad with the dressing.
Menu 2
Chicken Breasts With Lemon and Basil Couscous
Stuffed Chicken Breast:
Ingredients:
4  (about 1 1/4 pounds) medium skinless, boneless chicken-breast halves
1/4 cup (about half 4.4-ounce package) light garlic-and-herb spreadable cheese
1/4 cup jarred roasted red peppers, drained and chopped
8  whole fresh basil leaves, chopped
1 tablespoon olive oil, extra-virgin
1/2 teaspoon salt
1/4 teaspoon coarsely ground black pepper
Lemon and Basil Couscous:  

                                                                                                                                                                                                  
Ingredients:
1 tablespoon olive oil, extra-virgin
1/2 teaspoon salt
1/4 tablespoon coarsely ground black pepper
1 cup couscous
1 cup loosely packed fresh basil leaves, coarse
Directions:
Prepare Stuffed Breasts: With tip of knife, cut each chicken breast from a long side, keeping knife parallel to surface of breast, to form a deep pocket with as small an opening as possible.
In small bowl, combine cheese, peppers, and basil. Spread 1/4 cheese mixture in each chicken pocket. Rub outside of chicken with oil and sprinkle with salt and pepper.
Prepare Lemon & Basil Couscous: In 2-quart saucepan, add oil, salt, pepper, and 1 1/3 cups water and bring to boiling over high heat; stir in couscous. Cover saucepan; remove from heat and let stand at least 5 minutes.
Meanwhile, place chicken on grill over medium heat and cook 12 to 15 minutes or until juices run clear when thickest part of the breast is pierced with tip of knife, turning over once.
To serve, add basil and lemon juice to couscous, and fluff with fork to mix well. Spoon couscous onto 4 dinner plates and arrange chicken on top.
Cherry Tomato Cucumber Salad

Ingredients:

3 cups of cherry tomatoes, sliced in half
1 cup of chopped cucumber, peeled and seeded 
1 teaspoon fresh, chopped oregano
1 tablespoon lemon juice
2 tablespoons finely chopped shallots or green onions
2 teaspoons olive oil
Coarse salt and freshly ground black pepper to taste
Directions:
Gently toss the tomatoes, cucumber, onions and oregano together. Mix lemon juice, olive oil, salt and pepper to taste and drizzle over vegetables.
Serves 4.
Menu 3
Chicken Roll-Ups

4 servings
Ingredients:
11/4 lb chicken cutlets

4 slices lean ham

4 slices Swiss cheese

1/4 cup extra virgin olive oil

3/4 cup of Progresso Italian Panko crumbs  
Directions:
Preheat oven to 350°F. Lay cutlets on plastic wrap, pound until thin. Fold ham and cheese and half and lay over the chicken. You can add basil, rosemary  or any herb of choice.
Start at the narrowest end of cutlet and the roll up. Secure with a toothpick or be sure to lay them seam side down once breaded.
Dip pastry brush in extra virgin olive oil and brush on chicken rolls. Quickly put the entire chicken roll into bowl of Panko crumbs and use your hand or a spoon to press crumbs firmly onto chicken roll.
Transfer the rolled cutlets to a  greased baking dish. Then, using a teaspoon, drizzle some extra virgin olive oil over each chicken roll.
Bake for 15 – 20 minutes in the middle of the oven. In the last few minutes switch your oven to "broil" and move your baking dish to the rack closest to heating element. In 1-2 minutes, the high heat will brown up the crumbs.
Broccoli with Orecchiette            

                                                                                                                                                            
Serves 4
Ingredients:
8 ounces orecchiette (ear-shaped pasta) or small shells, whole grain
1 tablespoon extra-virgin olive oil
2 garlic cloves, minced
1 bunch (about 1 1/2 pounds) broccoli stalks, peeled and trimmed, stalks and florets, roughly chopped
1 teaspoon each coarse salt and freshly ground black pepper
2 tablespoons freshly grated Pecorino Romano cheese
Directions:
Bring a large stockpot of water to a boil. Add pasta, and cook until al dente, stirring occasionally to keep the pasta from sticking, about 8 minutes. Transfer to a colander to drain, reserving 1/2 cup cooking liquid. Set pasta aside.
Heat 1 teaspoon olive oil in a large skillet over medium heat. Add garlic; saute until golden, stirring to avoid burning, about 2 minutes. Add broccoli and reserved cooking liquid; cook, stirring, until broccoli is tender and bright green, about 3 minutes. Add the salt and pepper. Remove from heat.
Add reserved pasta to pan, and toss well to coat. Transfer to four serving bowls; drizzle each with 1/2 teaspoon olive oil, and garnish each serving with 1 1/2 teaspoons grated Pecorino Romano cheese.
Menu 4
Mushroom Stuffed Chicken Breast
Ingredients:

4 boneless chicken breasts, pounded thin
6 oz low fat softened cream cheese
12 sliced mushrooms
salt and pepper to taste
1 shallot, minced
1 tablespoon olive oil
4 slices Proscuitto
Directions:
In a skillet, saute mushrooms in oil until browned on medium heat stirring often to avoid burning. Add shallots and cook for an additional minute. Mix with cream cheese.
Divide the filling so that you have enough for 4 breasts. Put filling in the middle and roll tucking in the side ends so that you will not have the filling spill out later.
Do the same with the rest of the chicken pieces.
At this point wrap with prosciutto ham to encase the roll. Place in a greased baking dish and bake at 375 for 15-20 minutes.
Spaghetti with Roasted Zucchini
Ingredients:
12 oz spaghetti, whole grain
3 tablespoons olive oil
2 cloves garlic, smashed
4 small zucchini (about 1 lb total), sliced 1/4 in. thick
1/4 to 1/2 tsp crushed red pepper
Kosher salt
1/4 cup grated Parmesan cheese 
1/4 cup flat-leaf parsley, chopped
1 tablespoon grated lemon zest
Directions:
Heat oven to 425°F.
Cook the pasta according to package directions. Drain the pasta and return it to the pot. Toss the pasta with 1 tablespoon of the oil.
In a large bowl toss the zucchini, garlic, red pepper, remaining 2 tablespoons oil and ½ teaspoon salt. Add the Parmesan cheese toss to combine. Spread the zucchini mixture on a rimmed baking sheet and roast until the zucchini is tender and golden brown, 10 to 12 minutes.
Toss the pasta with the zucchini mixture, parsley and lemon zest.
Menu 5
Chicken Roulade with Olives and Preserved Lemons

Ingredients:

1/3 cup dry breadcrumbs
6 tablespoons capers, rinsed, drained, and divided
1 tablespoon chopped Preserved Lemon or lemon zest
12 pitted Kalamata ripe olives, drained and divided
2 garlic cloves, minced
4 (6-ounce) skinless, boneless chicken breast halves
2 teaspoons olive oil
2 cups chopped onion (about 1 medium)
1/2 cup dry white wine
1 cup water
1 cup fat-free, less-sodium chicken broth
2 tablespoons fresh lemon juice
1/2 cup golden raisins
1/4 teaspoon ground turmeric
1. Combine breadcrumbs, 4 tablespoons capers, 1 tablespoon Preserved Lemons, 6 olives, and garlic in a food processor or blender, and pulse 10 times or until the mixture is coarsely chopped.
2. Place each breast half between 2 sheets of plastic wrap; pound to 1/4-inch thickness using a meat mallet or small heavy skillet. Divide breadcrumb mixture into 4 equal portions; spread 1 portion on each breast half, leaving a 1/4-inch border around the outside edges. Roll up each breast half, jelly-roll fashion, starting with short side. Secure with wooden picks or twine.
3. Heat oil in a large nonstick skillet over medium-high heat. Add chicken to pan; cook 6 minutes, browning on all sides. Remove chicken from pan; keep warm. Add onion to pan; sauté 2 minutes or until browned. Add wine; cook until reduced to 1/4 cup (about 1 minute), stirring often. Add remaining 2 tablespoons capers, 1 cup water, broth, juice, raisins, and turmeric. Quarter the remaining 6 olives. Add to pan; bring to a boil. Add chicken to pan; cover, reduce heat, and simmer 20 minutes, turning chicken after 10 minutes. Serve chicken with sauce.
Roasted Red Potatoes
Ingredients:

12 small red potatoes cut in half
1 tablespoon olive oil
1 1/2 tablespoons Mrs. Dash® Garlic and Herb Blend, divided
2 tablespoons grated Parmesan Cheese
Directions:
Toss potatoes with olive oil and 1 tablespoon Mrs. Dash Blend in a bowl. Turn into a greased baking dish.
Roast in a preheated 400°F (200°C) oven for 30 minutes.
Increase heat to 450°F. Sprinkle with remaining Mrs. Dash Blend and continue to roast for 5 – 10 minutes or until tender and browned. Sprinkle with cheese just before serving.



Sauteed Fresh Green Beans 
In skillet with cover, add 1 small shallot sliced, 1 small garlic clove, minced, 1 cup low sodium chicken broth and 1 lb. trimmed fresh green beans.  Sprinkle with a little salt & pepper. Bring to boiling, lower heat to simmer, cover pan and cook until beans are tender.
Related articles