December 10, 2012
They are convenient and tempting  — those mixes packaged in envelopes in the grocery store. Adding a pouch to some water and having gravy or a seasoning packet for chili is easy to pick up and makes you feel that you are saving time.
But what if you had these things in your own home and for a lot less money?
Have you ever thought about it? Have you ever made your own mixes? There are many recipes available, from Hearty Bean Soup Mix to Homemade Sweetened Condensed Milk to Spice Mixes. Make a flavored coffee creamer or your own hot roll mix. With a little organization, some tightly sealed containers and labeling equipment you can have a pantry full of fabulous mixes in no time and you don't have to run out to the store before making your favorite casserole. It's also wonderful to have recipes for seasoning and herbs blends that may be difficult to find in some parts of the world, like Beau Monde seasoning or Herbs de Provence. 
Many consumers are concerned about fat and sodium content in many recipes that call for condensed soups and seasoning mixes. Make your own mixes and you control the sodium and fat content in the foods you eat. On a low sodium diet? Just leave out or reduce the salt or salty products. Want to eat low fat? Substitute low fat ingredients for higher fat ones. As a bonus, you can customize each mix to your taste. And you'll save money too! You can add, subtract, or substitute for just about any herb or spice in these recipes.
All of these mixes should be stored tightly covered in a cool, dry place. I have found that large Tupperware containers or large glass jars with screw-on lids work best. Most mixes will stay fresher longer if stored in the refrigerator. Just like purchasing a commercial mix with directions on the package, you will need to have the directions (stored with the mixes) to use the mixes that you make.
Time Saving Convenience Mix Recipes
The ingredients in these recipes can be doubled or tripled.  These mixes are great to have during the busy holiday season, so that you can make a quick dinner on those nights when you have a "million" things to do.
Cream-of-Something Soup Mix
A commercial brand lists 13 ingredients including corn syrup, vegetable oil, and sugar. This version has half that number and no mystery ingredients. If your recipe calls for cream of mushroom – add sauteed mushrooms to the reconstituted mix or for cream of celery soup add celery, etc.
Makes 3 ½ cups
Ingredients:
2 cups dry milk powder
1 1/4 cups cornstarch
1/4 cup chicken bouillon granules
2 tablespoons dried onion flakes
1/2 teaspoon pepper
1 teaspoon dried basil
Directions:
Combine all ingredients and store in a covered container.
For soup: combine ½ cup of the mix with 1 cup of water. Stir until smooth, then bring to a boil and cook until thickened.
For use as a condensed soup: combine 1 cup of the mix with one cup of water. Stir until smooth and bring to a boil and cook until thickened.
Note: There is no salt added; the bouillon has plenty.
Homemade Onion Soup Mix
Ingredients
3/4 cup instant minced onion
4 teaspoons onion powder
1/3 cup beef-flavored bouillon powder
1/4 teaspoon celery seed, crushed
1/4 teaspoon sugar
Mix all the ingredients and store in an airtight container.
To use: add two tablespoons mix to one cup boiling water. Cover and simmer for fifteen minutes.
Homemade Rice Seasoning Mix
Ingredients
3/4 cup chicken bouillon granules
1/2 cup dried parsley
1 tablespoon dried basil
1 tablespoon dried dill weed
2 tablespoons dried onion flakes
1 teaspoon seasoned salt, recipe below
2 teaspoons garlic powder
1 teaspoon lemon pepper seasoning
1 cup almonds, coarsely chopped (optional)
Mix together and store in an airtight container.
To prepare white rice:  combine 1 cup white rice, 2 cups water, and 3 tablespoons of the seasoning. Bring water to a boil and add rice & seasoning. Reduce to simmer and cook for 18 minutes.
To prepare brown/ wild rice: combine ½ cup long grain brown rice, ½ cup wild rice, 2 cups water and 3 tablespoons seasoning mix. Bring water to a boil and add rice & seasoning. Reduce to simmer and cook for 50 minutes.
Seasoned Salt
Ingredients:
6 tablespoons salt
1/2 teaspoon dried thyme leaves
1/2 teaspoon marjoram
1/2 teaspoon garlic salt or garlic powder
2 1/4 teaspoons paprika
1/4 teaspoon curry powder
1 teaspoon dry mustard
1/4 teaspoon onion powder
1/8 teaspoon dill weed
1/2 teaspoon celery salt
Put all ingredients into a mini food processor or small blender container and blend on low. Store in an airtight container.
All-Purpose Biscuit Mix
Makes 12 cups
Ingredients:
9 cups all-purpose flour
2 cups dry milk powder
1 tablespoon salt
1/4 cup baking powder
3/4 cup trans fat free solid shortening, such as Spectrum
Combine the dry ingredients and cut in the shortening until the mixture resembles coarse cornmeal. Store in a airtight covered container. It is not necessary to refrigerate.
To make 10 biscuits: combine 3 cups of the mix with ¾ cup water. Stir just until the dough comes together.
Pat out on a lightly floured surface and cut into rounds or squares. For soft biscuits, place in a round cake pan with the biscuits touching. For crisp biscuits, place the biscuits an inch apart on a cookie sheet.
Bake in a preheated oven at 450 degrees F for about 12 minutes.
Muffin Mix
Ingredients:
5 cups flour
1 cup whole wheat flour
1-1/2 cups sugar
1 cup instant nonfat dry milk powder
1/4 cup baking powder
2 teaspoons salt
1 tablespoon cinnamon
1/2 teaspoon ground cloves
Mix in large bowl and store in airtight container.
To bake muffins: place 2 cups mix in a large bowl. Add 2/3 cup water, 1 slightly beaten egg and 1/4 cup canola oil and mix only until dry ingredients are moistened. Fill 12 paper lined muffin cups 1/2 full. Bake at 400 degrees F for 10-15 minutes until muffins are puffed and firm.
Taco Seasoning Mix
Ingredients:
1/4 cup instant minced onion
2 tablespoons chili powder
2 teaspoons paprika
2 teaspoons crushed dried red pepper flakes
1-1/2 teaspoons dried oregano
1/2 teaspoons dried marjoram
1 tablespoon salt
1/4 teaspoon black pepper
2 tablespoons cornstarch
1 tablespoon instant minced garlic
1 teaspoon ground cumin
Combine all ingredients in a small bowl and blend thoroughly with wire whisk. Spoon mixture into a tightly closed container and label as "Taco Seasoning Mix". Store in a cool, dry place. Use within 6 months. Makes 6 packages (about 2 tablespoons each) of mix. 2 tablespoons equals 1.25-oz. pkg. purchased taco seasoning mix.
To make Taco Filling:
Brown 1 lb. lean ground beef or turkey in large skillet over medium heat; drain grease. Add 1/2 cup water and 2 tablespoons. Taco Seasoning Mix. Reduce heat, cover pan, and simmer 10 minutes, stirring occasionally. Makes enough filling for 8 to 10 tacos.
Brown Gravy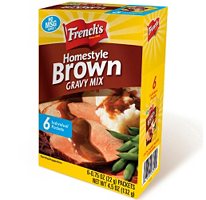 You can't taste the coffee but it gives the sauce its dark brown color. Great money saver for frugal cooks. Low sodium bouillon can be substituted.
Yield: 11 batches gravy
Ingredients:
1  2/3 cups cornstarch
6 tablespoons beef bouillon cubes
4 teaspoons instant coffee crystals
2 teaspoons onion powder
1 teaspoon garlic powder
1/2 teaspoon black pepper
1/2 teaspoon paprika
Combine all ingredients and store in an airtight container.
To make gravy: measure 3 tablespoons mix into a saucepan. Add 1 1/2 cups water. Bring to a boil and simmer 1 minute.
Individual Oatmeal Packets
Homemade oatmeal packets are handy and cheaper.
For each packet: fill a sandwich bag with 1/2 cup of oats, 2 teaspoons brown sugar, ¼ teaspoon cinnamon, a handful of dried fruit and another handful of nuts. Repeat for each bag. Store the bags in a large ziplock storage bag.
When needed, just add ½ cup hot boiling water and let sit until it's absorbed. Add milk, if desired.
Italian Salad Dressing Mix
Ingredients:
1 tablespoon Garlic Salt
1 tablespoon Onion Powder
1 tablespoon White Sugar
1 tablespoon Dried Oregano
2 tablespoons Salt
1 teaspoon Ground Pepper
1 teaspoon Dried Basil
1/4 teaspoon Dried Thyme
1/4 teaspoon Celery Salt
Mix to combine. Store in an airtight container.
To make the dressing:
1/4 cup Wine Vinegar
2/3 cup Olive Oil
2 tablespoons Water
2 tablespoons Dry Mix
Place all ingredients in  a jar with a lid and shake to combine.
Quick-Fix Healthy Mix contains over 150 dry and liquid mix recipes to stock your kitchen using easy-to-find basic ingredient, allowing you to choose how much and what types of sugar, fat and flour goes into your finished food.
http://www.amazon.com/Quick-Fix-Healthy-Mix-affordable/dp/1440203857
Related articles
June 4, 2012
Eating fruit as part of your daily diet can help you maintain a healthy weight and reduce the risk of heart disease, strokes and some cancers. Also, fruit contains a great variety of vitamins and minerals, carbohydrates and fiber. So, eating the right combinations of fruit is particularly good for you. For instance, an apple is high in fiber but low in vitamin C, but if you add an orange and some strawberries, then you will get all the vitamin C you need for that day.
If you didn't know fruit was good for you, you would not eat it. But, as much as you would prefer to eat potato chips for a snack, you know that fruit is an important part of a balanced diet. Don't forget about fruit when you plan your weekly meals.
Plan your meals before you go shopping; make sure they include fruit. Breakfast cereal can be topped with bananas, low-fat yogurt can be mixed with blueberries, and pancakes can be decorated with fresh strawberries. Seedless grapes make an easy side to your lunchtime sandwich. You can even top your dinner salad with chopped apples or sliced oranges.
According to USDA's, My Pyramid, you want to eat around 1-1/2 to 2 cups of fruit everyday. Aim for fresh, seasonal fruit whenever possible. If fresh fruit is not available, dried, canned or frozen fruit are other options. Remember, portions of dried fruit are smaller–a serving is typically 1/4-cup.
Don't always stick to the same foods, as you could find that you are still lacking in some nutrients. Make sure that you include a variety of foods in a variety of colours – the brighter the better.  Summer is the perfect time to start.
Guide to fruit portions:
Fresh fruit:
Small-sized fruit: 2 or more, for example 2 plums, 2 satsumas, 3 apricots, 2 kiwi, 7 strawberries, 14 cherries.
Medium-sized fruit: 1 medium fruit, such as 1 apple, banana, pear, orange or nectarine.
Large fruits: half a grapefruit, 1 slice of papaya, 1 slice of melon (2-inch slice), 1 large slice of pineapple, 2 slices of mango (2-inch slices)
Dried fruit:
1 tablespoon of raisins, currants, sultanas, 1 tablespoon of mixed fruit, 2 figs, 3 prunes, 1 handful of banana chips
Canned or frozen fruit:
Roughly the same quantity of fruit that you would eat as a fresh portion: 2 pear or peach halves, 6 apricot halves, 8 segments of tinned grapefruit
Juices:
A glass (6 oz.) of 100% juice (fruit or smoothie) counts as 1 portion, but you should only count juice as 1 portion per day, however much you drink. This is mainly because it contains very little fiber and more sugar than fresh fruit.
EASY WAYS TO EAT MORE FRUIT
Add fruit slices to sandwiches. Sliced pear and apple add a unique texture and unexpected flavor.
Mix chopped fruit into plain yogurt. When comparing six-ounce containers of Greek yogurt, plain offers 18 grams of protein for 100 calories, and strawberry is 140 calories with 14 grams of protein. Instead of buying the premade flavors, make your own by adding pureed or chopped fruit. You'll save money, avoid added sugars, and be able to customize the flavor to your taste buds with distinct combos like blackberry peach or strawberry pear.
Add fruit to baked goods. We've all made banana bread, but that's not the only fruit-based treat you can bake. Lower the fat in just about any recipe by replacing half the oil with applesauce, or get creative with muffin recipes by adding diced strawberries, or mix bits of dried apricots into cookie dough.
Cut up fruit and store it in the fridge. It takes effort to wash and cut fruit, enough to make you reach for something easier and less healthy. Make fruit as accessible as a bag of chips by storing cut up fruit in portion size containers in the refrigerator.
Eat fruit for dessert. Save calories and skip the refined sugars by enjoying nature's dessert.
Recipes That Add Fruit To Your Daily Meal Choices
Breakfast
Buttermilk Oat Pancakes
4 servings, 3 oatcakes & 1/4 cup fruit sauce each
2 cups well-shaken buttermilk
1 large egg
1 1/2 cups old-fashioned rolled oats
1/2 cup whole-wheat flour
1 tablespoon sugar
1 teaspoon baking soda
1/2 teaspoon ground cinnamon
1/4 teaspoon salt
To prepare oatcakes: Whisk buttermilk and egg in a medium bowl. Combine oats, flour, sugar, baking soda, 1/2 teaspoon cinnamon and salt in another medium bowl. Stir the dry mixture into the wet mixture and let stand for 15 minutes. The mixture will bubble slightly as it sits.
Using a pastry brush coat a griddle or large nonstick skillet with canola oil; heat over medium heat. Using 1/4 cup of batter for each, cook 3 or 4 oatcakes at a time until bubbles dot the surface, 2 to 3 minutes. Flip and continue cooking until browned, 1 to 2 minutes more, reducing heat if necessary to prevent over browning.  Keep warm in a 200 F. oven.
Serve the oatcakes with the fruit sauce.



Fruit Sauce



2 cups fresh berries, whatever is in season
2 tablespoons maple syrup
1/2 teaspoon ground cinnamon
Meanwhile, place berries, maple syrup and 1/2 teaspoon cinnamon in a small heavy saucepan. Bring to a simmer over medium heat and cook, stirring occasionally, until the berries are mostly broken down and syrupy, 8 to 10 minutes. Remove from heat and cover to keep warm.
Good For You Muffins
Makes 12 muffins
1 cup King Arthur White Whole Wheat Flour
1 cup Unbleached All-Purpose Flour
1/2 cup rolled oats
1/2 cup brown sugar
1/2 teaspoon salt
2 teaspoons baking powder
1 teaspoon cinnamon
1 cup chopped fresh, seasonal fruit (blueberries, blackberries or raspberries, leave whole)
1 cup milk
1/4 cup vegetable oil
3 large eggs or ¾ cup egg substitute
Preheat the oven to 425°F. Lightly grease a 12-cup muffin pan.
Whisk together the flours, oats, brown sugar, salt, baking powder, cinnamon, and fruit.
In a separate bowl, whisk together the milk, oil, and eggs. Pour the wet ingredients into the dry, and mix until just blended.
Using an ice cream scoop put batter into the prepared muffin pan, filling each cup three-quarters full. Bake the muffins for 15 to 18 minutes, until they are light golden brown and a cake tester inserted in the center of a muffin comes out clean.
Remove them from the oven, and let rest in the pan for 5 minutes before turning out to cool completely on a rack. Serve warm.
Lunch



Florida Citrus Salad with Shrimp

Makes 4 servings
8 small potatoes (fingerling, or red or yellow)
3 grapefruit or oranges or tangerines
1 small fennel bulb, thinly sliced (about 1 cup)
1/2 whole cucumber, thinly sliced
1 avocado, peeled and diced
4 tablespoons fresh pomegranate seeds, optional
1/4 cup chopped herb of choice (oregano, tarragon, dill, basil)
1 head radicchio, washed and torn into small pieces
1 tablespoon extra virgin olive oil
12 jumbo shrimp (peeled and deveined)
Vinaigrette
2 tablespoons red wine vinegar
1 teaspoon salt
2 cloves garlic, minced
2 tablespoons plus 1 teaspoon extra-virgin olive oil
Cook potatoes in boiling salted water until tender. While potatoes cook, whisk together vinaigrette ingredients in medium bowl.
Slice cooked potatoes and place them immediately into vinaigrette while hot to infuse flavor.
Zest grapefruit or orange to get 2 to 3 tablespoons of peel. Then, peel and segment fruit over a strainer set over a bowl to save juice for searing shrimp.
In hot sauté pan, cook shrimp in 1 tablespoon olive oil. Cook shrimp 1 or 2 minutes on each side until pink. Add grapefruit zest and reserved juice to pan.
Combine shrimp, fruit and remaining salad ingredients, toss and serve.
Spring Greens and Strawberries With Poppy Seed Dressing
4 servings
Salad



1 1/2 cups watercress leaves
1 1/2 cups torn arugula leaves
2 cups torn tender spinach leaves
1 1/2 cups sliced strawberries
1/3 cup sliced toasted almonds
Orange Poppy Seed Dressing, recipe below
In a large bowl, combine the watercress, arugula, spinach and strawberries.  Pour the dressing to taste over the salad and toss gently to combine. Sprinkle with almonds.
Orange Poppy Seed Dressing
Makes 1-1/2 cups
4 teaspoons cornstarch
6 tablespoons cold water
1-1/3 cups orange juice
1/4 cup white vinegar
4 teaspoons Dijon mustard
4 teaspoons honey
1-1/2 teaspoons poppy seeds
1/2 teaspoon salt
In a small saucepan, combine cornstarch and cold water until smooth. Stir in the orange juice, vinegar, mustard and honey. Bring to a boil; cook and stir for 1 minute or until thickened. Stir in poppy seeds and salt. Cover and refrigerate until chilled.
Dinner


Salmon with Fruit Salsa
Makes: 4 servings
Salsa:
3/4 cup chopped fresh strawberries or chopped, peeled peaches or nectarines
1/3 cup chopped, peeled kiwi fruit or fresh apricots or mango
1/4 cup small diced red onion
1 tablespoon orange juice
1/2 teaspoon crushed red pepper
1/4 teaspoon salt
2 tablespoons chopped fresh mint leaves
Salmon
16 ounces fresh, skinned salmon, about 1 inch thick
1 tablespoon olive oil 
1/2 teaspoon lemon-pepper seasoning
Salt
Pat dry fish dry with paper towels. Cut into 4 serving-size pieces.
For fruit salsa: in a medium nonreactive bowl, combine all of the ingredients and stir to blend. Cover with plastic wrap and let rest 30 minutes before serving..
Brush both sides of each fish piece with oil. Sprinkle with lemon-pepper seasoning and salt.
Oil the unheated rack of a broiler pan, or grill pan or outdoor grill. Place fish on pan or grill.
Broil 4 inches or from heat or grill for 8 to 12 minutes or just until fish flakes easily when tested with a fork, turning once halfway through cooking. Serve with the fruit salsa.
Chicken With Peaches and Basil
3 tablespoons Wondra all-purpose flour
1/2 teaspoon salt
1/2 teaspoon pepper
4 boneless skinless chicken breast halves
2 tablespoons olive oil
2 ripe fresh peaches or 2 nectarines
1 small onion, chopped
1 garlic clove, minced
3/4 cup low sodium chicken stock
1 tablespoon lemon juice
1/4 cup fresh basil, chopped
In a shallow dish, combine flour and half of the salt and pepper, set aside 2 teaspoons for sauce.
In remaining flour mixture, coat chicken well; shake of excess.
In a large  saute pan, heat oil over medium heat; cook chicken, turning once, for 15 to 20 minutes or until no longer pink inside.
Transfer to plate and keep warm.
Meanwhile, peel and pit peaches; cut into wedges.
Add onion, garlic and reserved flour mixture to skillet; cook, stirring for 3 minutes.
Pour in stock and lemon juice; bring to boil, stirring to scrape up any brown bits from bottom of pan.
Add peaches; reduce heat to medium and cook, stirring for 3 minutes.
Stir in basil and remaining salt and pepper.
Pour over chicken to serve.
Dessert
Summer Berry Crisp
Ingredients
1/2  cup plus 2 tablespoons granulated sugar, divided
2  tablespoons cornstarch
1  tablespoon finely shredded orange peel
2  teaspoons finely shredded lemon peel
6  cups assorted fresh berries (such as blueberries, blackberries, hulled strawberries or raspberries)
2  tablespoons orange juice
1  tablespoon lemon juice
3/4  cup unbleached all-purpose flour or whole wheat pastry flour
1/2  cup packed dark brown sugar
1/2  teaspoon ground allspice
1/4  teaspoon salt
6  tablespoons canola oil
1/2  cup regular rolled oats
1 cup frozen yogurt
Directions
Preheat oven to 375°F. In a large bowl combine ½ cup granulated sugar, cornstarch, orange peel and lemon peel. Add berries, orange juice and lemon juice; toss gently to combine. Transfer to a 2-quart baking dish. Set aside.
In a medium bowl combine flour, brown sugar, 2 tablespoons granulated sugar, allspice and salt. Using a pastry blender, cut in butter until mixture resembles coarse crumbs. Stir in oats. Sprinkle over fruit mixture in dish.
Bake, uncovered, for 40 to 45 minutes or until top is golden brown and juices are bubbly in the center of the dish. Cool slightly and serve warm with a spoonful of frozen yogurt, if desired. Makes 8 to 10 servings.
Related articles