They are convenient and tempting  — those mixes packaged in envelopes in the grocery store. Adding a pouch to some water and having gravy or a seasoning packet for chili is easy to pick up and makes you feel that you are saving time.
But what if you had these things in your own home and for a lot less money?
Have you ever thought about it? Have you ever made your own mixes? There are many recipes available, from Hearty Bean Soup Mix to Homemade Sweetened Condensed Milk to Spice Mixes. Make a flavored coffee creamer or your own hot roll mix. With a little organization, some tightly sealed containers and labeling equipment you can have a pantry full of fabulous mixes in no time and you don't have to run out to the store before making your favorite casserole. It's also wonderful to have recipes for seasoning and herbs blends that may be difficult to find in some parts of the world, like Beau Monde seasoning or Herbs de Provence. 
Many consumers are concerned about fat and sodium content in many recipes that call for condensed soups and seasoning mixes. Make your own mixes and you control the sodium and fat content in the foods you eat. On a low sodium diet? Just leave out or reduce the salt or salty products. Want to eat low fat? Substitute low fat ingredients for higher fat ones. As a bonus, you can customize each mix to your taste. And you'll save money too! You can add, subtract, or substitute for just about any herb or spice in these recipes.
All of these mixes should be stored tightly covered in a cool, dry place. I have found that large Tupperware containers or large glass jars with screw-on lids work best. Most mixes will stay fresher longer if stored in the refrigerator. Just like purchasing a commercial mix with directions on the package, you will need to have the directions (stored with the mixes) to use the mixes that you make.
Time Saving Convenience Mix Recipes
The ingredients in these recipes can be doubled or tripled.  These mixes are great to have during the busy holiday season, so that you can make a quick dinner on those nights when you have a "million" things to do.
Cream-of-Something Soup Mix
A commercial brand lists 13 ingredients including corn syrup, vegetable oil, and sugar. This version has half that number and no mystery ingredients. If your recipe calls for cream of mushroom – add sauteed mushrooms to the reconstituted mix or for cream of celery soup add celery, etc.
Makes 3 ½ cups
Ingredients:
2 cups dry milk powder
1 1/4 cups cornstarch
1/4 cup chicken bouillon granules
2 tablespoons dried onion flakes
1/2 teaspoon pepper
1 teaspoon dried basil
Directions:
Combine all ingredients and store in a covered container.
For soup: combine ½ cup of the mix with 1 cup of water. Stir until smooth, then bring to a boil and cook until thickened.
For use as a condensed soup: combine 1 cup of the mix with one cup of water. Stir until smooth and bring to a boil and cook until thickened.
Note: There is no salt added; the bouillon has plenty.
Homemade Onion Soup Mix
Ingredients
3/4 cup instant minced onion
4 teaspoons onion powder
1/3 cup beef-flavored bouillon powder
1/4 teaspoon celery seed, crushed
1/4 teaspoon sugar
Mix all the ingredients and store in an airtight container.
To use: add two tablespoons mix to one cup boiling water. Cover and simmer for fifteen minutes.
Homemade Rice Seasoning Mix
Ingredients
3/4 cup chicken bouillon granules
1/2 cup dried parsley
1 tablespoon dried basil
1 tablespoon dried dill weed
2 tablespoons dried onion flakes
1 teaspoon seasoned salt, recipe below
2 teaspoons garlic powder
1 teaspoon lemon pepper seasoning
1 cup almonds, coarsely chopped (optional)
Mix together and store in an airtight container.
To prepare white rice:  combine 1 cup white rice, 2 cups water, and 3 tablespoons of the seasoning. Bring water to a boil and add rice & seasoning. Reduce to simmer and cook for 18 minutes.
To prepare brown/ wild rice: combine ½ cup long grain brown rice, ½ cup wild rice, 2 cups water and 3 tablespoons seasoning mix. Bring water to a boil and add rice & seasoning. Reduce to simmer and cook for 50 minutes.
Seasoned Salt
Ingredients:
6 tablespoons salt
1/2 teaspoon dried thyme leaves
1/2 teaspoon marjoram
1/2 teaspoon garlic salt or garlic powder
2 1/4 teaspoons paprika
1/4 teaspoon curry powder
1 teaspoon dry mustard
1/4 teaspoon onion powder
1/8 teaspoon dill weed
1/2 teaspoon celery salt
Put all ingredients into a mini food processor or small blender container and blend on low. Store in an airtight container.
All-Purpose Biscuit Mix
Makes 12 cups
Ingredients:
9 cups all-purpose flour
2 cups dry milk powder
1 tablespoon salt
1/4 cup baking powder
3/4 cup trans fat free solid shortening, such as Spectrum
Combine the dry ingredients and cut in the shortening until the mixture resembles coarse cornmeal. Store in a airtight covered container. It is not necessary to refrigerate.
To make 10 biscuits: combine 3 cups of the mix with ¾ cup water. Stir just until the dough comes together.
Pat out on a lightly floured surface and cut into rounds or squares. For soft biscuits, place in a round cake pan with the biscuits touching. For crisp biscuits, place the biscuits an inch apart on a cookie sheet.
Bake in a preheated oven at 450 degrees F for about 12 minutes.
Muffin Mix
Ingredients:
5 cups flour
1 cup whole wheat flour
1-1/2 cups sugar
1 cup instant nonfat dry milk powder
1/4 cup baking powder
2 teaspoons salt
1 tablespoon cinnamon
1/2 teaspoon ground cloves
Mix in large bowl and store in airtight container.
To bake muffins: place 2 cups mix in a large bowl. Add 2/3 cup water, 1 slightly beaten egg and 1/4 cup canola oil and mix only until dry ingredients are moistened. Fill 12 paper lined muffin cups 1/2 full. Bake at 400 degrees F for 10-15 minutes until muffins are puffed and firm.
Taco Seasoning Mix
Ingredients:
1/4 cup instant minced onion
2 tablespoons chili powder
2 teaspoons paprika
2 teaspoons crushed dried red pepper flakes
1-1/2 teaspoons dried oregano
1/2 teaspoons dried marjoram
1 tablespoon salt
1/4 teaspoon black pepper
2 tablespoons cornstarch
1 tablespoon instant minced garlic
1 teaspoon ground cumin
Combine all ingredients in a small bowl and blend thoroughly with wire whisk. Spoon mixture into a tightly closed container and label as "Taco Seasoning Mix". Store in a cool, dry place. Use within 6 months. Makes 6 packages (about 2 tablespoons each) of mix. 2 tablespoons equals 1.25-oz. pkg. purchased taco seasoning mix.
To make Taco Filling:
Brown 1 lb. lean ground beef or turkey in large skillet over medium heat; drain grease. Add 1/2 cup water and 2 tablespoons. Taco Seasoning Mix. Reduce heat, cover pan, and simmer 10 minutes, stirring occasionally. Makes enough filling for 8 to 10 tacos.
Brown Gravy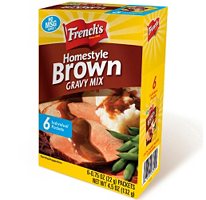 You can't taste the coffee but it gives the sauce its dark brown color. Great money saver for frugal cooks. Low sodium bouillon can be substituted.
Yield: 11 batches gravy
Ingredients:
1  2/3 cups cornstarch
6 tablespoons beef bouillon cubes
4 teaspoons instant coffee crystals
2 teaspoons onion powder
1 teaspoon garlic powder
1/2 teaspoon black pepper
1/2 teaspoon paprika
Combine all ingredients and store in an airtight container.
To make gravy: measure 3 tablespoons mix into a saucepan. Add 1 1/2 cups water. Bring to a boil and simmer 1 minute.
Individual Oatmeal Packets
Homemade oatmeal packets are handy and cheaper.
For each packet: fill a sandwich bag with 1/2 cup of oats, 2 teaspoons brown sugar, ¼ teaspoon cinnamon, a handful of dried fruit and another handful of nuts. Repeat for each bag. Store the bags in a large ziplock storage bag.
When needed, just add ½ cup hot boiling water and let sit until it's absorbed. Add milk, if desired.
Italian Salad Dressing Mix
Ingredients:
1 tablespoon Garlic Salt
1 tablespoon Onion Powder
1 tablespoon White Sugar
1 tablespoon Dried Oregano
2 tablespoons Salt
1 teaspoon Ground Pepper
1 teaspoon Dried Basil
1/4 teaspoon Dried Thyme
1/4 teaspoon Celery Salt
Mix to combine. Store in an airtight container.
To make the dressing:
1/4 cup Wine Vinegar
2/3 cup Olive Oil
2 tablespoons Water
2 tablespoons Dry Mix
Place all ingredients in  a jar with a lid and shake to combine.
Quick-Fix Healthy Mix contains over 150 dry and liquid mix recipes to stock your kitchen using easy-to-find basic ingredient, allowing you to choose how much and what types of sugar, fat and flour goes into your finished food.
http://www.amazon.com/Quick-Fix-Healthy-Mix-affordable/dp/1440203857
Related articles